TRICAD BCF Manager for MicroStation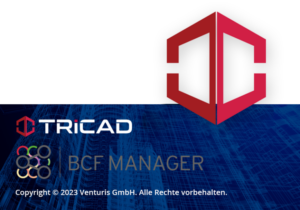 Powered by BIMcollab BCF-Manager
Most construction projects typically involve members of various trades and companies. From the architect to the structural engineer – to the building services planner. During specialized planning reviews, so-called issues arise that have to be solved by one or more team members.
For decades, VenturisIT has offered the possibility to work with BCF within TRICAD MS for the fields of TGA and plant design.
Now pure MicroStation users such as architects or structural engineers may also use the advantages of BCF directly in the drawing, even if they are not TRICAD MS users.
Due to MicroStation's exeptional integration capabilities, it is being used in more and more openBIM projects anyway, and now there is another compelling aspect.
The actual models can be exchanged via an "open standard" (IFC). IFC contains data (GUIDs) associated with the model and building objects, but is not suitable for documenting issues or workflows. BCF (BIM Collaboration Format), on the other hand, is an open file format that can be used to add text comments, snapshots, etc. beyond the IFC model layer to improve communication between stakeholders. In this way, communication is kept separate from the actual model.
But how do you transmit the issues found and find the corresponding locations in your CAD models?
Our BIMCollab BCF Manager now natively integrates with Bentley MicroStation, meaning you may now access directly in the model to access your issues. This is made possible by the Cloud Data Environment (CDE)
Efficient user interface
The user interface displays all the information necessary to create and resolve issues in a clearly structured overview, as a list, or in scalable tiles. When creating or editing issues, you may access all issue properties. When connected to the BIMcollab Cloud, the transparent issue filter helps you not to miss the issues assigned to you.
The section field feature increases your prductivity when identifying issues by showing you the context surrounding the selected items.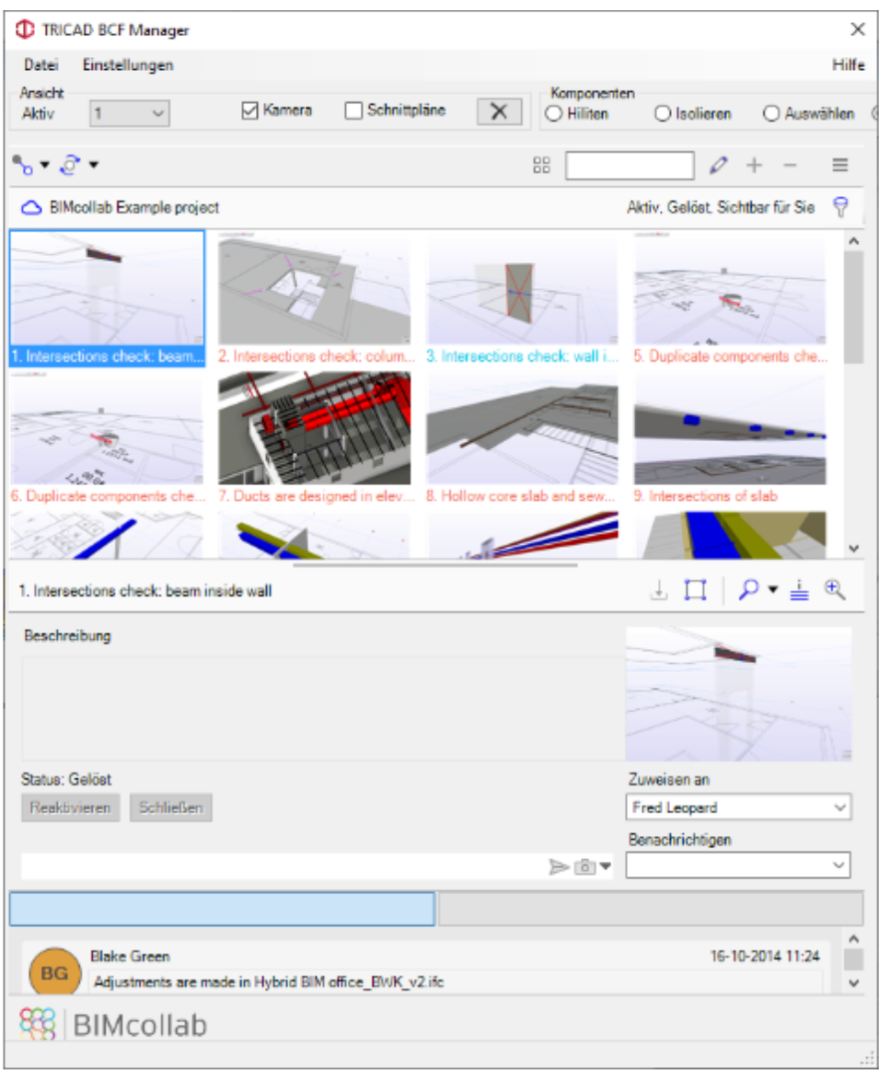 What does BCF mean?
Our well-known IFC interface is available including BCF interface. Via BIM Collab BCF Manager collisions can be made visible and managed in TRICAD MS.
BCF Managers are plug-ins for BIM applications. They enable the creation, filtering and retrieval of issues directly in the BIM model.
With BIMcollab Cloud, issues can be synchronized and shared with team members.
Review solutions, track markers, provide feedback and use an approval workflow – The user interface displays all the information needed to create and resolve issues in a clear overview. When creating / editing issues, all issue properties can be accessed. This creates a transparent connection to the BIMcollab cloud to filter and review assigned issues.